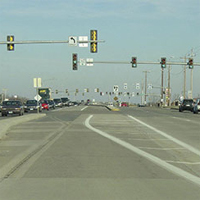 Original Scope: Cross jurisdictional traffic signal coordination provides substantial benefits to the road user by establishing consistent signal operations across a region, as well as the typical reductions in travel time, stops, and delays. The purpose of this scan is to examine the cooperative agreements, organizational and institutional structures, programs, policies, and operational practices that have enabled agencies to successfully engage in regional traffic signal management programs.
Scan Members
Brent Jennings, Idaho Transportation Department, Scan Chair
Yancy Bachmann, Georgia DOT
Eddie Curtis, FHWA
Vanloan Nguyen, Virginia DOT
Steve Misgen, Minnesota DOT
Jacob B Renick, Mississippi DOT
Kevin N. Balke, Texas Transportation Institute, Subject Matter Expert
The prospectus above includes a membership roster with contact information.
Workshop Participants
A "reverse scan" format was used for Scan 07-04: The scan team met with representatives from participating agencies in one location to exchange information in a workshop format.
Maricopa Association of Governments (MAG), Phoenix, AZ
Pima Association of Governments (PAG), Tucson, AZ
Los Angeles County Department of Public Works, Alhambra, CA
Los Angeles County Metropolitan Transportation Authority (LACMTA), Los Angeles, CA
Metropolitan Transportation Commission (MTC), Oakland, CA
Orange County Transportation Authority (OCTA), Orange, CA
Denver Regional Council of Governments (DRCOG), Denver, CO
ARCADIS US. Inc., Atlanta GA
Georgia DOT, Atlanta, GA
Road Commission for Oakland County, Pontiac, MI
Southeast Michigan Council of Governments (SEMCOG)
Mid-America Regional Council, Kansas City, MO
Regional Transportation Commission of Southern Nevada (RTC-FAST), Las Vegas, NV
Fargo-Moorhead Metro Council of Government, Fargo, ND
Southwestern Pennsylvania Commission (SPC), Pittsburgh, PA
North Central Texas Council of Governments (NCTCOG), Arlington, TX
Utah DOT (UDOT), Salt Lake City, UT
Puget Sound Regional Council (PSRC), Seattle, WA
Please login to access additional content for scan members only.
Please login to access additional content for scan members only.