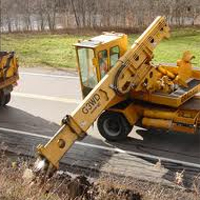 Original Scope: Many transportation agencies face budget constraints that make it very difficult to increase or even hold steady the scale of their maintenance staff and in-house programs. Some agencies have turned to outsourcing of maintenance activities to private-sector contractors as a means of coping. This scan focuses on agencies' experience with outsourcing of maintenance activities, considering contractual arrangements, actual maintenance operations and management practices employed, and consequences for resource utilization and system performance.
Scan Members
Greg Duncan, Tennessee DOT, Scan Chair
Jennifer Brandenburg, North Carolina DOT
Robert "Chris" Christopher, Washington State DOT
Carolyn Dill, P.E., Texas DOT
Caleb Dobbins, New Hampshire DOT
Tim Lattner, Florida DOT
Leslie Mix, Louisiana DOTD
Agustin Rosales, California DOT
Robert Younie, Iowa DOT
Rodney Pletan, Subject Matter Expert
The prospectus includes a membership roster with contact information.
Workshop Participants
This scan was conducted as a workshop. In addition to the scan team, workshop participants included:
Georgia DOT
Maine DOT
Maryland DOT
Michigan DOT
Missouri DOT
Nevada DOT
Pennsylvania DOT
Rhode Island DOT
Utah DOT
Virginia DOT
Wisconsin DOT
Association for Management and Operations of Transportation Infrastructure Assets (AMOTIA)
Please login to access additional content for scan members only.
Please login to access additional content for scan members only.